At Convo, we believe that you cannot have true inclusion without Deaf inclusion. Inclusion isn't just a noun, inclusion is also a verb; we want to practice making everyone feel included all the time. As the largest Deaf-owned company in the world, we understand what true inclusion means. Sometimes, it may seem as if you are practicing inclusion because a Deaf person is in the room, but still not achieving true inclusion. Here are some common mistakes that result in exclusion rather than Deaf inclusion.
Talking to or listening to the Deaf employee differently when a sign language interpreter is present
Address the Deaf employee directly. For example, if you want to ask a Deaf employee for their name, it's better to ask, "What's your name" instead of "What's their name." It may feel natural to look at the person who is speaking with their voice, but when conversing with a Deaf employee, it can cause a feeling of disconnection when you don't maintain eye contact with the Deaf employee.
Speak at a normal pace, but make sure to give pauses here and there so that the Deaf employee can process what is being said and have time to ask questions. This also helps the interpreter facilitate the conversation more efficiently. When separated from the employee, avoid giving messages to the interpreter to relay at a later time to the individual.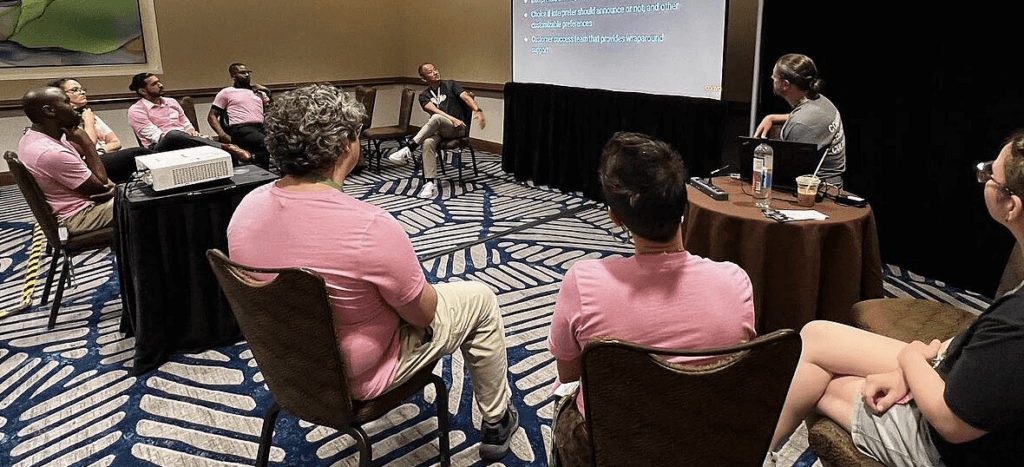 Treating everyone "too equally"
If you plan to turn the lights off during a presentation, make sure to have a spotlight on the interpreter so that the Deaf person can see the interpreter. Also, ensure that the Deaf employee is seated somewhere they're able to watch so they can watch the interpreter unobstructed. 
If you have materials or handouts, please have a copy for the interpreter so that they have a full understanding and context of the material.
Assume that there are no Deaf awareness events and observations
Did you know every April is National Deaf History Month? This is just one example of many events celebrating Deaf people & culture. This would be a great way of making your Deaf employee feel they're an integral part of your company's culture. It would be a fantastic opportunity to educate hearing employees about Deaf-led achievements that impacted our society today.
Here are a few Deaf awareness dates you may want to know about:
Every April: National Deaf History Month
Every September: Deaf Awareness Month
Every last week of September: International Week of the Deaf
An accommodation is one-size-fits-all
Every Deaf employee has their own preferred accommodations. There are Deaf people who can lipread, but they may still need to have a sign language interpreter to maximize their access to work. There may be some Deaf people who prefer to use assistive listening devices over using a sign language interpreter. Whatever the preferred accommodations may be, we encourage you to ask the Deaf employee what kind of accommodations they'd be most comfortable with and honor their request. This way, you're showing them that you value them, which boosts an employee's productivity at work.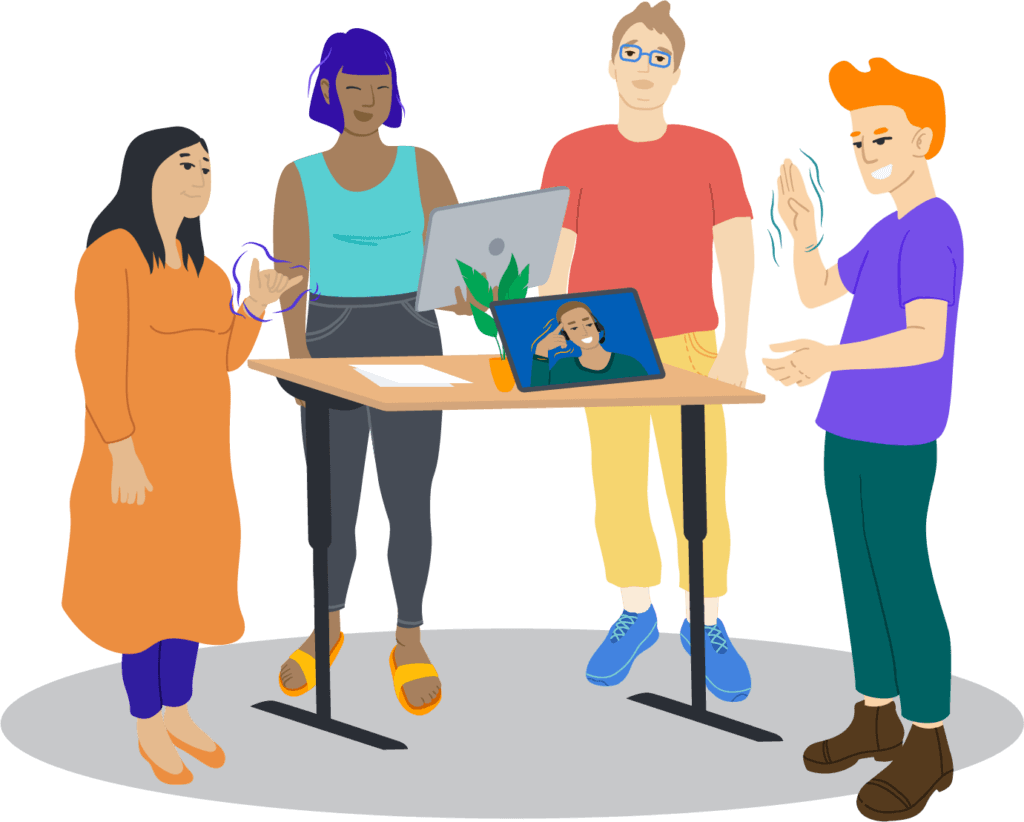 Keep your guidelines the same
Once you have a Deaf employee on board with the team, it's a perfect time to review your guidelines to find out anything that could be modified to give Deaf employees full accessibility. For example, making your emergency notifications visual would be a fantastic way to ensure that Deaf employees get full access to emergency information. Got some training videos that you require every employee to watch? Make sure that they're captioned so that everyone (not just Deaf employees) gets maximum access to the information they need to do their job effectively.
Convo believes that true inclusion is Deaf inclusion. As the largest Deaf-owned business in the world, we have created solutions that seamlessly integrate sign language communication into the workplace and customer environments across the globe. Learn more about our Virtual Interpreting service.