Since day one, we've been committed to the future of our community, and the best way to do this is to invest in our Deaf children. Check out our involvement with the community!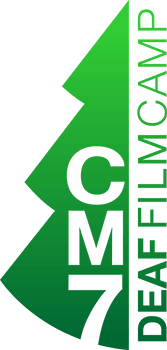 Lights, camera, and pah! Deaf Film Camp is for Deaf kids who aspire to work in the film industry. We sponsor kids and send our own creative team members to volunteer as camp staff.
Language is essential to human life, and Deaf children are no exception. We provide media and artistic support for LEAD-K and Nyle DiMarco Foundation, these organizations raise language awareness for Deaf children.
Myths About your Deaf Child
Why is using Gesture with your Deaf Child Important?
How does your Deaf Child Acquire Language?
"What is your dream, and why?" A question we ask the Never Stop Dreaming contest participants. The winners are selected by a panel of judges from LEAD-K, and then are invited to a weekend of unforgettable fun.
Adventure with The Daily Moth
Trip to Dancing With the Stars with Nyle DiMarco