Unleash the power of accessibility.
As a Deaf-owned company, we understand the importance of good communication access. Partner with us to amplify your reach with Deaf customers and employees.

Of untapped business at risk due to poor accessibility

Potential missed income from not empowering Deaf employees

Missed revenue gain because of non-diverse workforce
Not sure what services you need? We got you.
Then our on-demand virtual interpreting service is perfect for you.
Connect with one of our interpreters anytime, anywhere to start a conversation.
For these needs, our planned services are a good fit.
Get in touch with us to learn more about what we can do for you.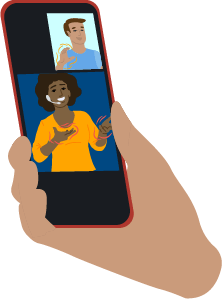 No hassles, no headaches.
Our solution is simple: we empower Deaf people to take control of their conversations. This means no additional bulky devices or complex installations are needed. With your Deaf customers or employees, use what's available and familiar—like a personal mobile phone or work laptop. Our service will take care of the rest. It is that simple.
Don't just take our word for it.
Overall, working with Convo has been an incredibly positive experience. Their professionalism, expertise, and commitment to excellence have made them an invaluable partner in our DEI efforts.
Shemie B.
Talent Sourcing Firm
I understood the interpreters, the interpreters understood me. I can't say that for all interpreting services, but Convo is really onto something!
Dakota M.
Multinational Consumer Goods Corporation
I am so grateful for their services to help me do my job just like everybody else and to be able to obtain as much information as I can without missing out on critical topics.
Cauvery S.
Enterprise Application Firm
We've been a trusted partner to companies like:
Let's build a more accessible future together.