September is Deaf Awareness Month, a time to celebrate Deaf culture and identities, reflect on Deaf-led achievements, and advocate for a more inclusive and equitable society.
But how do Deaf people feel about Deaf Awareness Month – what does it mean for them?
As a Deaf-owned, Deaf-led company, most assume Deaf Awareness is a celebratory month for us, but that's a misconception. Every Deaf person's lived experience is unique, and Deaf awareness means something different to each of us. So, we asked our Deaf employees for their perspectives on what Deaf Awareness Month means to them.

For some, Deaf Awareness Month is a good opportunity to amplify Deaf communities, spotlight our sign languages, and raise awareness about why Deaf Awareness Month is important.
Deaf Awareness Month is a way to advance Deaf culture and communities.
"Deaf Awareness Month is a wonderful opportunity to shine a light on the Deaf community and teach hearing people about Deaf culture and American Sign Language (ASL). It helps reduce misconceptions about Deaf people and ASL."
"It's so important. It helps people to see that we're here and we matter."
"I always felt Deaf Awareness Month is more what I want to celebrate [about my Deaf identity] and if anything, we should re-claim awareness to be AWARE that you should try learning ASL, try interacting with us, hire Deaf people, shop Deaf, learn the [Deaf] culture, [and] appreciate Deaf arts."
"I believe Deaf Awareness Month served a role in my confidence and formation of my identity when growing up. My school brought us together with other Deaf schools and programs and gave us a chance to get to know how big our community was and participate in fun activities that further enriched our sense of pride. I see it as a critical component of raising Deaf children with pride in who they are and where they come from."
For others, Deaf Awareness Month serves as a frank reminder of language deprivation with some calls to action for increasing awareness about people with disabilities and accessibility.
Deaf Awareness Month as a reminder of systemic issues
"What many people do not know is that Deaf children are at a high risk of language deprivation which is when a child does not have access to an accessible language which results in cognitive delays. 92% of Deaf children have hearing parents, and unfortunately, 3 out of 4 parents do not sign with their Deaf children. Additionally, even in the 21st century, 98% of Deaf children have no access to education in sign language. This is why Deaf Awareness Month is important – to spread awareness about the harm of not exposing sign language to Deaf children right from the start."
"I think one of my views is that Deaf Awareness Month is a watered-down way to bring greater understanding about the Deaf community. Some may benefit from Deaf Awareness Month to learn more about the Deaf community, which in turn can lead to a better understanding about people with disabilities, accessibility, and rights for people with disabilities."
"Months or weeks celebrating awareness of certain things can feel bland to me sometimes. As long as "-isms" exist (audism and lack of intersectionality in this case) and see no real improvements addressing them in our society, these events spotlighting awareness do not uplift or inspire me. But, I believe things can and will happen as long as we commit to tackling systemic issues and recognizing problems from their roots."
Deaf Awareness is also an opportunity to correct misconceptions about the Deaf community and learn to be more inclusive.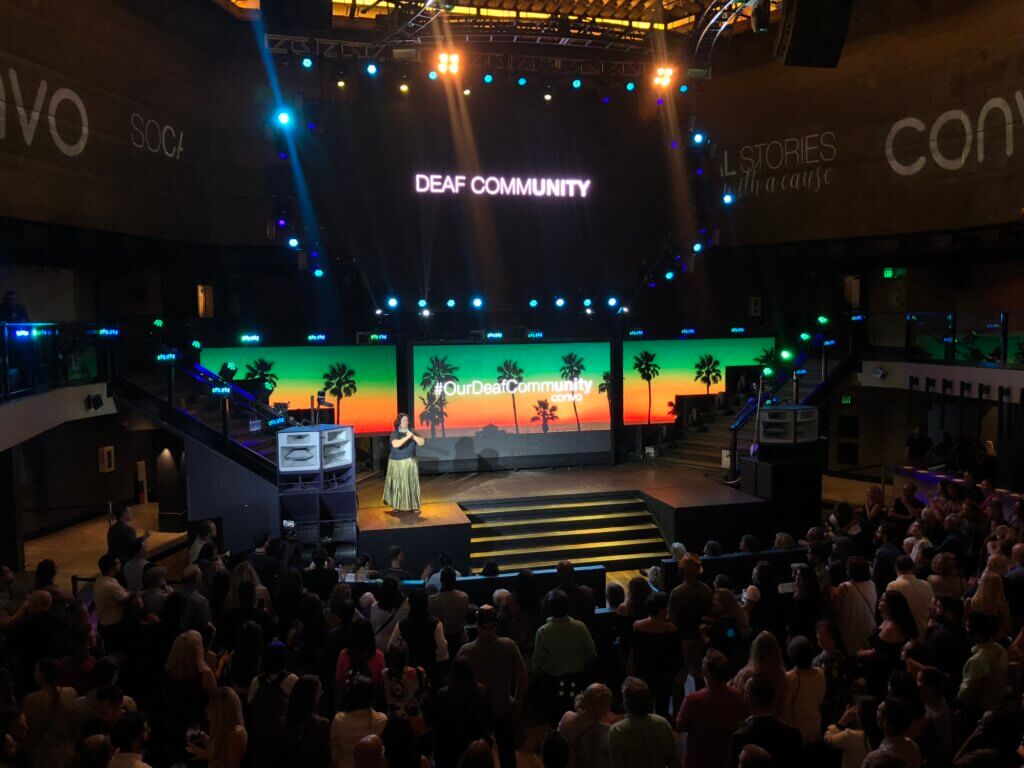 What's one thing the world should know about the Deaf community?
"I'd love for the world to realize that the Deaf community isn't a monolith; every d/Deaf person has their own thoughts, feelings, and perspectives when it comes to d/Deafness. Some people love their identity, some people do not, and that's perfectly okay. It's a matter of letting individuals decide their own humanity. So, keep your mind open and take in the wondrous world of d/Deafness!"
"I'd expect more patience from hearing people, who may not want to bother learning sign language, to at least get used to my deaf accent while I speak to them in English. I'd not allow those precious hours of training to go to waste and have hearing people make me feel defeated … Enough is enough! Hear us out."
"One thing the world should know about the Deaf community is that we are a tactile community. We rely on touch to communicate, interact, and connect."
"The Deaf community is very unique because we all have something that we can relate to through our lived experiences."
"We're humans. Treat us accordingly."
"I just ask that others pause and listen before making assumptions or decisions that impact us. Nothing about us without us."
"We see the world through a different lens."
Coming together to share stories
We believe that as signers, we have a unique contribution to the world, and telling our stories is an important part of showing who we are as a community.
Deaf awareness is something we practice every day at Convo – our company is full of Deaf employees sharing their stories and experiences at work and outside of the office. As our company expands, the definition of Deaf and the significance of Deaf Awareness Month grows with every story.
"We all need to share more stories. We need stories to help us understand each other."
Our vision is to connect the world through conversations in sign language and spoken languages that blend the unique lived experiences of everyone. This is what will truly ignite inclusive and innovative spaces. Awareness and understanding are the first steps.
We believe that being you is beautiful.
We believe that being signing-centric opens up a new world.
No matter how you celebrate Deaf Awareness Month, we invite you to share your story with us or follow along and learn with us.
Want to make your business and workplace more inclusive? Check out our virtual interpreting services.