Experience the new Convo Now at our partnering businesses in the area. Use the map below to find them.
Let's have a conversation
We're thrilled to be at NTID's 55th Reunion! Stop by our booth to learn more about what we can do for you.
Find us at the LBJ First Floor Street, Booth 6 & 7, any time on Friday 9 am - 7 pm & Saturday 9 am - 4 pm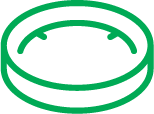 We're evolving how we do conversations and we invite you to be a part of the next generation of Convo.

Are you a business owner in the Rochester area? Want to give your Deaf customers the full experience at your store?